2013 NDL Tour Stop, Recap
The 2013 NDL Tour Stop marks the 6th annual NDL dodgeball tournament held in New Jersey. Thanks to all the teams, fans and volunteers who help make this a fun filled day of dodgeball.
A special thanks to NDL Pro Dodgeballer, Brett Batky of the Virginia Rampage who once again did an outstanding job as tournament director.
We hope to see you all next year.
» Join our mailing list and receive future dodgeball event notices.
THE RESULTS:
Co-Ed Division
1stSandlot All Stars
2ndTeam Awesome
Open Division:
1stUpstate Empire
2ndTeam Awesome
Women's Division:
1stDeath Stalkers
2ndPink Team
Stinger Division:
1stTeam Awesome
2ndPower Lords
Best Team name:
Burczyk
(Pronounced Boor-chick, when pronouncing you roll the rrrrrrrr) Apparently it's the Polish word for total destruction/annihilation.
Most Creative Uniform: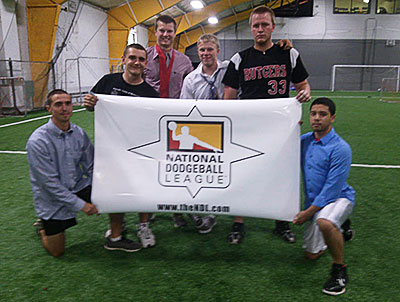 Best Team Pic:
Photo Gallery: