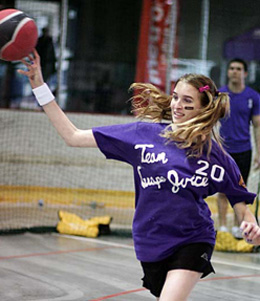 Look out!!! Dodge and dive, just don't forget to duck.
Hundreds of East Coast Dodgeballers converged on Mercer County Ice Skating Center, in West Windsor, NJ on April 17th to compete in the 3rd Annual, Mercer Madness Dodgeball Festival.
The rules are right off the playground. If you're hit, you're out. Catch a ball - the thrower is out and one player on your side comes back in. The goal. Eliminate the opposing team and win the game.
Have questions about the NDL or the Mercer Madness? Contact us using our online form or email us at info@nationaldodgball.com.
THE RESULTS:
Adult Open Champ:

Magic Zone

Adult Co-ed Champ:

Magic Zone

High School Champ:

Philly Phakeout
Best Team Name:

Knights of the Round Weapon

Best Costume:

The Skins
2010 MERCER MADNESS PHOTOS:
Get a closer look at the 2010 Madness, check out photographer Mike Schwartz's 2010 Mercer Madness Photo Album.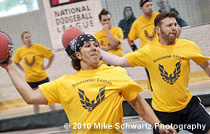 THANK YOU:
Many thanks to the teams who participated in the 3rd annual Mercer Madness Dodgeball Festival. It was extremely competitive and well played. Also, a special thanks to Brett Batky of the NY Epic who did an outstanding job as tournament director.
Hope we see everyone next year!
Mika Ryan, President
Mercer County Sports and Entertainment Commission