Dodgeball Tournament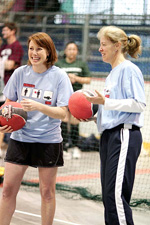 Look out!!! Dodge and dive, just don't forget to duck.
Hundreds of East Coast Dodgeballers, converged on West Windsor and the Mercer County Ice Skating Center for the opportunity to compete in the 2nd Annual Mercer Madness.
The rules were simple, have fun. If a ball hit you, you're were out. If the ball was caught, one player comes back in and the player who threw the ball is out. The goal eliminate the opposing team. The last team with players remaining on court wins.
Have questions about the NDL or the Mercer Madness? Contact us using our online form or email us at info@nationaldodgball.com.
THE RESULTS:
Open:

House of Pizza

Adult Co-ed:

Green Death

High School:

Dream Team
Best Team Name:

The Whole Flockin' Family

Best Costume:

Field of Terror
2009 MERCER MADNESS PHOTOS:
Get a closer look at the 2009 Madness, check out photographer Mike Schwartz's web site: www.mssphoto.com or link directly to the album.
THANK YOU:
Thanks to all our participants and fans who made this year's Mercer Madness Dodgeball a success. You were wonderful, yet fierce competitors! Please visit our photographer's web site and check out the many photos of the tournament. I look forward to seeing everyone at Mercer Madness 2010.
Thank you again for your participation!
Mika Ryan
President, Mercer County Sports and Entertainment Commission