2008 MERCER MADNESS RECAP:
Dear Mercer Madness Participants,
Thank you so much for making our First Annual Mercer Madness Dodgeball Tournament a success. Thanks to you and our partner, the National Dodgeball League, we are already making plans for the second annual tournament.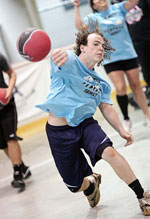 THE RESULTS:
Open:

BAMF 978

Adult Co-ed:

Screaming Eagles

College:

BAMF 978
High School:

Pink Pirates

Best Team Name:

Tsunami of Swagger

Best Costume:

Scrubs
EVENT PHOTOS:
You can see over 700 action proofs of Mercer Madness posted on our photographer, Mike Schwartz's, web site: www.mssphoto.com or link directly to the album.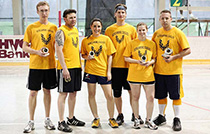 THE MADNESS BLOG:
You can also visit our blog at mercermadnessdodgeball.blogspot.com and let us know how you felt about the tournament.
Thank you again for your participation!
Mika Ryan, President
Mika
Mercer County Sports and Entertainment Commission